Managing Allergies at Easter? Check out our Top Tips to stay safe.
1. Carry Auto-Injector at all times
Carry  2 adrenaline auto-injectors (EpiPen, AnaPen, Emerade, Auvi Q or Jext ) with you at all times in case of an emergency. Make sure every time you leave the house you think "Phone, Keys, Wallet & Auto-Injector". It's an essential habit like putting on a seatbelt and may save your life.  If you leave the house without your adrenaline auto-injectors, go back and get them and remember to carry two as you may need two in an emergency.
It's important that your child sees you carrying the adrenaline pens at all times because research shows they are more likely to carry them themselves as teens & adults if they have seen you carry them at all times. As with all types of behaviour, they will model their own on what they have seen.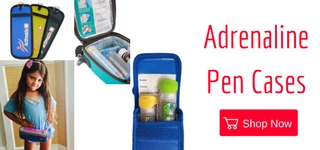 2. Is your child going to a party/egg hunt?
Managing allergies at Easter mean you should plan ahead so that kids with allergies are not excluded. If your child is going to an Easter egg hunt make sure you contact the host in advance to inform them about your child's allergies so they can accommodate them at the party/egg hunt.  If they are not sure, you can let them know about or supply a safe stash of sweets or egg for your child. When you arrive you should take time out to inform the host of your child's food allergies and make sure they know what to do in the event of an emergency.
Trainer/dummy adrenaline pens are very useful to demonstrate effectively how to administer a pen correctly in case of anaphylaxis.  Also, ensure that your child's allergy medicine is stored in a safe out of reach place of little hands. Finally, make sure the host knows how to contact you if they have any questions during the party or in case of an emergency.
3. Educate your child
You can use Easter as a good opportunity to teach your child the importance of reading allergy labels and checking with an adult before eating. Teach your child not to share any food or drinks and if they if they are unsure about any food at the party/egg hunt then they should ask an adult. Finally, teach your child to tell an adult if they are feeling unwell and not to go to the bathroom or bedroom without telling somebody as allergic reactions can progress very quickly.  Having your child carry a mobile phone so you can contact each other can provide reassurance.
4. Eating out
If you are going out for a meal as a treat this Easter make sure you call the restaurant in advance to make sure they can cater for yours or your child's allergies & avoid disappointment on the day. When you get there make sure they know about those allergies again, there's no point in leaving it to chance. Since December 2014 restaurants within the EU must provide allergy information either on their menus, on allergy information guides or verbally at the request of the customer.
5. Alternatives to Chocolate
If you can't find any suitable chocolate products then there are some fun alternatives. You could be adventurous and make your own treats. There are lots of great suggestions in "I'm Hungry" by Tanya Wright available from our site. If you want to keep an egg related theme then you could decorate some plastic eggs or real eggs (assuming your child doesn't have an egg allergy) and fill those with safe allergy free treats, or toys or whatever you wish. Focus your child's attention on dressing up and party games and less on treats. If you are going to include face painting in your costume, don't forget to check ingredients for allergens.
6. Other Helpful Tips
Sometimes sweets marked as 'treat size' have different ingredients to the regular versions, so you should double check these before eating them. Here are some helpful links to two manufacturers that provide avoidance and free from lists on their websites. Nestlé, Cadburys (just click on the product and it will give you allergy information).
7. Helpful products
Our Medication Bags are great to carry adrenaline pens, anti-histamines, inhalers & spacers and hand wipes to clean little hands. Our Aer case comes with handy symptom guide and auto-injector guide so help any carer in an emergency situation.
Medication Bags
AER Case
Bring a fully charged mobile phone in case of emergency.
Consider allergy wristbands or medical jewellery to raise awareness.
Allergy Wristbands
Medical Jewellery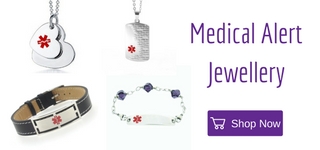 The main thing is that no matter what you are doing this Easter enjoy yourself and always think safety first. Happy Easter!
Disclaimer: The information provided is for informational purposes only and is not intended to be a substitute for professional medical advice, diagnosis or treatment. Allergy Lifestyle Limited (t/a) Allergy Lifestyle) uses reasonable endeavours to check the accuracy of information provided however no warranty is given that they are error-free. Always seek the advice of an allergy specialist and follow your anaphylaxis emergency care plan.