Adrenaline Nasal Spray
Last June we wrote a blog about promising trials for an adrenaline intranasal spray. The trials showed that the bioavailability of adrenaline after taking it as a spray through the nose was similar to that after injection with an auto-injector. It also showed that adrenaline was absorbed quickly through the lining of the nose. You can read more about the trials here: https://www.allergylifestyle.com/adrenaline-intranasal-spray-for-anaphylaxis-looks-promising-in-early-trials/
Now, the FDA (the US agency that governs medicines) has given the nasal spray a fast track designation. A Fast track designation means that the development and review of the new spray will be expedited as it fills an unmet medical need.
"Because epinephrine is the first-line treatment for anaphylaxis, having other effective delivery options, such as a needleless alternative, may be attractive to patients and healthcare providers, as well as parents, school nurses, first responders and emergency department staff," stated Dr. David Fleischer, an associate professor of paediatrics at the University of Colorado School of Medicine and Children's Hospital Colorado who served as an advisory board physician.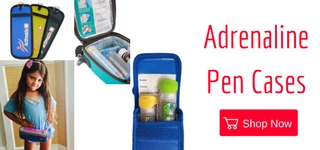 Veta™ Smart Case and App
Ever wanted an EpiPen that would remind you to bring it with you, tell you when it was too hot or too cold, let your family/friends know if you were having an allergic reaction and let you know when it was about to expire?
Well now it's here! Makers Aterica Inc describe the Veta™ Smart Case & App as a comprehensive anaphylaxis and food allergy support system for individuals and their families.
The case is capable of sending multiple alerts to the app including:
Removal alert – When the auto-injector is removed from the smart case as well as sharing the user's location to the support circle.
Separation Alert – When you leave the auto-injector behind.
Find Me Locator – locates misplaced auto-injectors quickly and easily using a map and by activating the case's flashing lights and beeping sounds.
Temperature Monitor – to notify the user when the auto-injector's temperature is not within the range set by the user.
Expiry Watch – to warn about approaching expiry dates that could affect the integrity of the adrenaline.
Support Circles – allow family members and friends to stay connected and receive alerts and locations if the auto-injector is removed for use.
Currently the Veta™ Smart Case is compatible with EpiPen®, EpiPen Jr® and Mylan's authorised generics to EpiPen® auto-injectors.

Sources:
https://www.empr.com/drugs-in-the-pipeline/epinephrine-nasal-spray-anaphylaxis-treatment-intranasal-bioavailability/article/792360/
https://www.apnews.com/46751a13eeb436748d4eaeed75fdf306
Image:
BruceBlaus/ Wikimedia Commons
Disclaimer: The information provided is for informational purposes only and is not intended to be a substitute for professional medical advice, diagnosis or treatment. Allergy Lifestyle Limited (t/a) Allergy Lifestyle) uses reasonable endeavours to check the accuracy of information provided however no warranty is given that they are error-free.