Adrenaline Intranasal Spray for Anaphylaxis Looks Promising in Early Trials
INSYS Therapeutics new formulation for an adrenaline intranasal spray has begun testing.
Currently, adrenaline is most commonly given as an injection delivered through an auto-injector. This nasal spray could be a needle free, non-invasive and easy to use alternative.
The first trials for the spray included 60 participants with seasonal allergies.
The trial showed that the bioavailability of adrenaline (amount of adrenaline in the bloodstream) after taking the nasal spray was similar to that after injection with an auto-injector.
It also showed that the adrenaline was absorbed rapidly through the lining of the nose.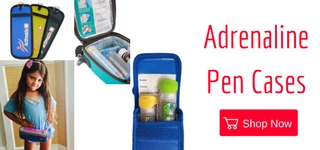 "If the results of the initial study are borne out in a subsequent trial, this epinephrine nasal spray may become a viable alternative for patients with food allergy, venom allergy or other causes of anaphylaxis who must be prepared to treat it rapidly and effectively when it occurs," said Dr David Fleischer, an associate professor of paediatrics at the University of Colorado School of Medicine and Children's Hospital Colorado who served as an advisory board physician.
"Because epinephrine is the first-line treatment for anaphylaxis, having other effective delivery options, such as a needleless alternative, may be attractive to patients and healthcare providers, as well as parents, school nurses, first responders and emergency department staff."
"This is an exciting milestone for people affected by severe allergies who might be seeking an alternative delivery mechanism for epinephrine," said Saeed Motahari, president and chief executive officer of INSYS Therapeutics. "Given that epinephrine is on the FDA shortage list, we look forward to working closely with the agency to determine the optimal path to making this investigational novel drug delivery system available to those in need."

According to the Mayo Clinic, more than 200,000 cases of anaphylaxis occur each year in the United States. The World Allergy Organization estimates that up to two percent of the global population—as many as 150 million people worldwide—will experience anaphylaxis during their lifetime.
Source: https://investors.insysrx.com/phoenix.zhtml?c=115949&p=irol-newsArticle&ID=2354567
Image: BruceBlaus/ Wikimedia Commons
Disclaimer: The information provided is for informational purposes only and is not intended to be a substitute for professional medical advice, diagnosis or treatment. Allergy Lifestyle Limited (t/a) Allergy Lifestyle) uses reasonable endeavours to check the accuracy of information provided however no warranty is given that they are error-free.